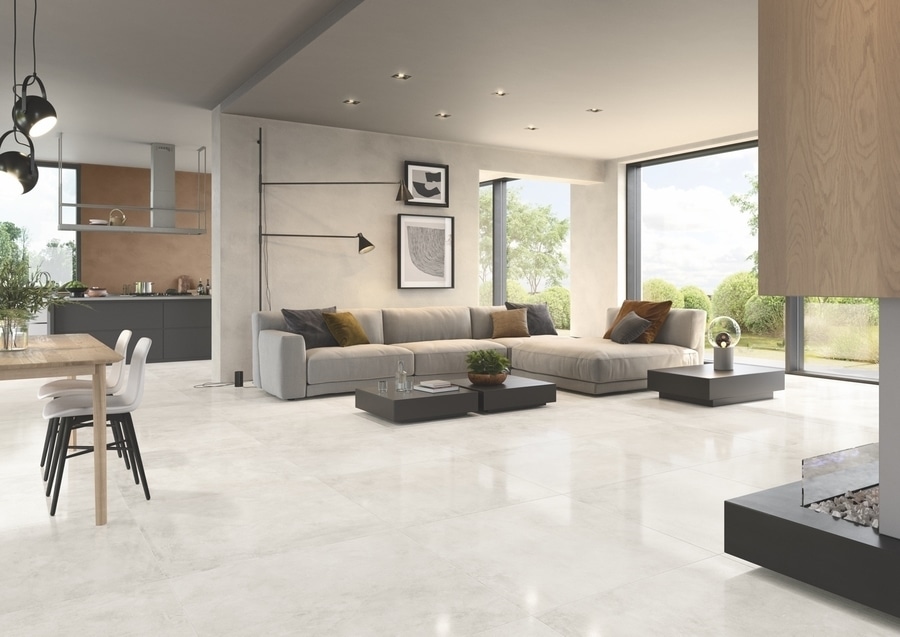 #

Inspiration
The same flooring throughout the house with Casalgrande Padana tiles
Up to a few years ago, the trend was to have different floors in different rooms.
However, things have changed now, and it's much more popular to have seamless flooring to create visual and spatial continuity. The same flooring throughout the house creates a more cohesive and consistent look.
Casalgrande Padana's porcelain stoneware tile collections include various shapes and formats – square, rectangular, hexagonal, and unusual shapes – for creative combinations and layouts. For example, large-format tiles (60×60 cm or larger are ideal for creating a minimalist setting, even in a small room.
Wood-effect porcelain stoneware tiles lend themselves perfectly to creating seamless floors throughout the house. You can choose from several laying patterns, depending on your taste, the size of the room, and the style you choose: straight, diagonal, squares, chevron, or herringbone in its Italian, Hungarian, and French variants.
Marble-effect tiles are also ideal for creating elegant, contemporary, uninterrupted surfaces with minimal grout lines.
Whether a terrace, a patio, a veranda, or a garden, any outdoor space adds value to your home, especially if you can create visual continuity and bring your indoors out. This way, you can improve their functionality and comfort all year round. Seamless indoor and outdoor flooring allows you to visually expand your spaces by dissolving boundaries. In addition, Casalgrande Padana's wide range of anti-slip tiles (20 mm thick) allows for multiple combinations for any style and need. Outdoor porcelain stoneware tiles can be laid on screed with adhesive, ensuring high load resistance. They can also be dry-laid on sand, gravel, or turf. In these cases, they can be walked on immediately without needing screed, mortar, or adhesive.
Moreover, these tiles' 20 mm thickness allows you to create raised floors using fixed and height-adjustable polypropylene pedestals. Outdoor raised floors are easy to remove and inspect. They also allow you to hide the electrical and plumbing systems.
These tiles withstand temperature fluctuations, weather agents, chemicals, and seawater. They also have extraordinary load and abrasion resistance and flexural strength, making them ideal for indoor and outdoor floors and walls. Casalgrande Padana porcelain stoneware tiles are made solely with natural raw materials, making them fully recyclable and environmentally sustainable. They are also fire-resistant, non-allergenic, have antibacterial properties and are easy to lay and clean. Plus, they withstand the test of time.