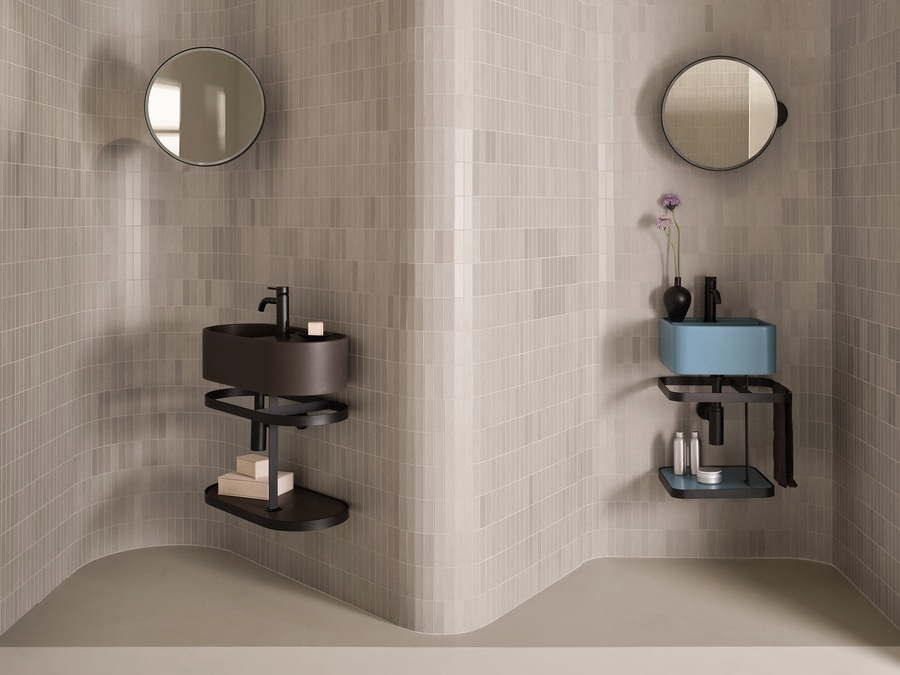 #

Industry News
Les Petites by Ceramica Cielo: small spaces, big personality
The new Les Petites collection by Ceramica Cielo, designed by Andrea Parisio and Giuseppe Pezzano, is dedicated to small bathrooms with big personality.
Suspended ceramic elements supported by metal structures, in an interplay of horizontal planes and vertical uprights, make Les Petites a design that fits perfectly into any environment. A sophisticated and versatile collection where the "greatness" of the object lies entirely in its intrinsic aesthetic and functional value.
Designed to be easily positioned in small spaces, it is available in three variants: a square washbasin (Les Petites 35) and two oval washbasins (Les Petites 46 and 60) all accompanied by a metal structure with a minimalist design, which serve as a practical towel holder and countertop. A solution that enhances the bathroom environment by transforming the functional element into a decorative element to the benefit of optimising space.
The essential metal structure – available in the Talco, Matt Black and "Acque di Cielo" colour palettes - supports, on two different levels, the washbasin and the countertop – both in ceramic and available in the Glossy White finish and in exclusive "Terre" and "Acque di Cielo" colour palettes. The combination of these elements gives life to different interpretations of a single model, depending on the various customisations.
Les Petites is also available in the suspended or countertop washbasin variants which can be combined with the new Luisa drawer units, characterised by two modular drawers available in 2 different heights (20h and 34h). Modularity and composition make Luisa a practical and flexible component, with a simple and rigorous aesthetic value. The modules, stackable in height, can be lacquered in the Terre and Acque di Cielo colours, mixed together for a highly customised effect. The top of the drawer unit can also be back-painted or in Azul Noche stone, and the units can also be placed on castors.
With this collection, Ceramica Cielo once again confirms its role as a trend-setter in the sector capable of intercepting contemporary sensibilities, proposing to the market unprecedented solutions that express and enhance the Company's extraordinary ability to mould the material and offer the market a product with high added value, multiple facets and an extremely recognisable design.