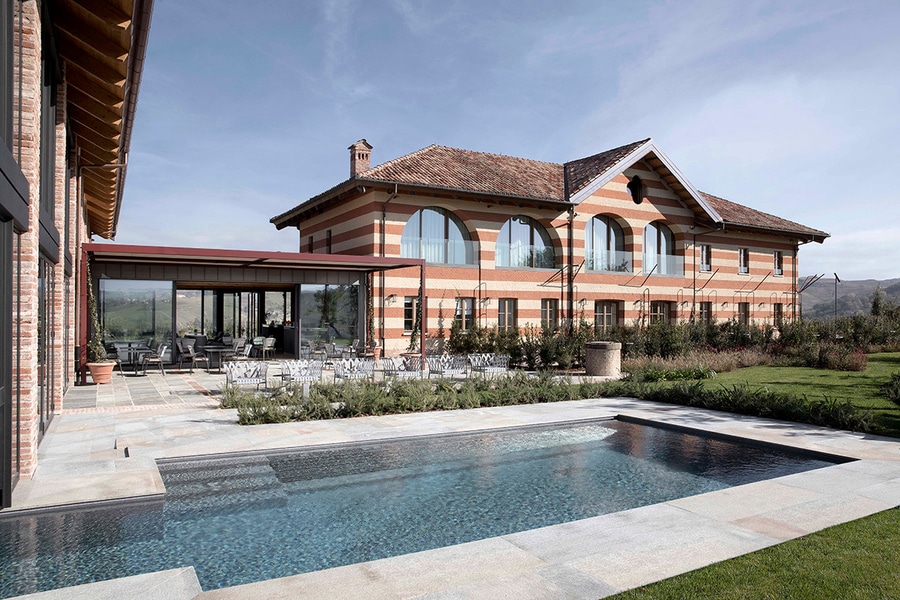 #

Industry News
Ceramica Cielo decorates the bathrooms of Cascina Galarej, a charming "hotel diffuso" integrated multi-building hotel
Cascina Galarej, a charming, diffused hotel in Serralunga d'Alba, in the heart of the Langhe
Ceramica Cielo, a leading company in the production of ceramics for bathroom furnishings, is part of another prestigious project designed by Cristiana Catino of I ACC Naturale Architettura studio in collaboration with studio PlaC. This project is the Cascina Galarej, a charming, diffused hotel in Serralunga d'Alba, in the heart of the Langhe: The project aimed at enhancing of the pre-existing ancient building, taking into account the particularity and uniqueness of the environment in which the complex is located and finding perfect integration with the surrounding nature.
The interiors have been adapted to the hotel function, which features ten rooms, an indoor swimming pool and a spa, emphasising the recovery of some of the original parts such as the wooden roofs, the large arched openings of the facades and the vaults. The latter, left in their original colours, characterise the volumes of the rooms within which spaces for the bathrooms are carved out. Here the washbasin furnishings from Ceramica Cielo's Multiplo collection designed by Andrea Parisio and Giuseppe Pezzano find their perfect setting, chosen in the glossy finishes of Alga and Anemone from the Acque di Cielo colour palette.
It is a unique and ingenious concept, where the free modularity of the ceramic countertops, integrated in modular steel frames and visible storage elements and compartments, gives life to a flexible and articulated system capable of decorating rooms with horizontal and vertical elements, in symmetrical and specular solutions, in a game of full and empty spaces that gives rhythm to the walls.
The bathroom furniture contributes significantly to the final result of Cascina Galarej's interior design project, which builds a dialogue between history, contemporaneity, and nature, with a counterpoint played out between the furnishings created to the architects' designs and those selected from the best-known and most famous names in modern Italian design, among which Ceramica Cielo stands out.
With this important project, the company once again confirms itself as an attentive and reliable partner for high-end contract realisations, thanks to its unique and recognisable style, high quality materials and unmistakable design.
Photo credits: Barbara Corsico
Project: Arch. Cristiana Catino I ACC Naturale Architettura with Andrea Alessio I PLAC