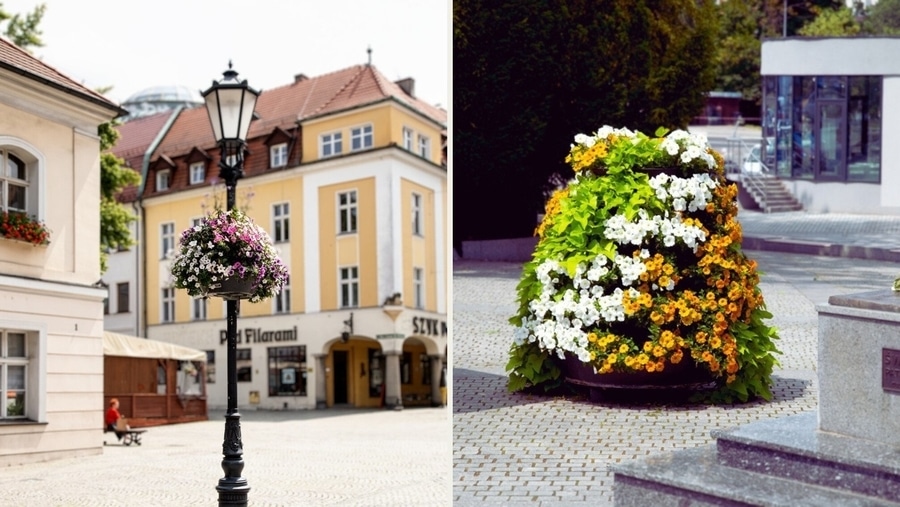 #

Product Trends
City full of nature? Summer flowers
Flower Towers
In recent months, the inhabitants of our beautiful city have had the opportunity to admire the remarkable transformation that has taken place right in the city centre. The promenade, which is often filled with tourists and residents, has gained a new beauty thanks to the charming flowering. Flowers and plants have enlivened the urban space of Zielona Góra, creating picturesque landscapes and encouraging people to spend time outdoors.
Summer burst of colour in the city centre
A flowered city centre is not only an aesthetic experience for passers-by, but also a great benefit for the environment. Plants help to improve air quality, absorb pollutants and emit oxygen, which benefits the health as well as the general well-being of residents. In addition, greenery has a calming effect on everyone, which is especially important for dynamic, modern cities.
Read our article and take a look at the latest photos of summer flowering in Zielona Góra! See how the city has changed in recent months.
Stylish pots and the Flower Towers: the summer version of Zielona Góra
Pots from the URBANA collection from Terra Group were placed in the most recognizable places in Zielona Góra. Their size allowed for quite large plantings, so that real trees appeared in the very center of the city. These types of pots can serve as tools for dividing urban space into different zones. They can define the edges of promenades, squares or recreational areas, setting clear boundaries. In this way, URBANA pots helped to organize space and maintain order, while ensuring the comfort and safety of all pedestrians.
On the other hand, the Flower Towers placed on the promenade highlighted the identity of the city, which is famous for its greenery and surrounding nature. The Flower Towers have been beautifully flowered to delight passers-by and add many different colors to the urban landscape. Both the hanging and standing Flower Towers have been used to decorate Zielona Gora, so the image of the center has been greatly diversified. Zielona Góra is therefore an excellent example of how to wonderfully flower a city and introduce plants where this is usually not possible.
Plants as a key element of public space
Plants play an extremely important role in public spaces. Their presence in the city center brings many benefits and transforms the urban environment into a welcoming environment. Flowers or trees add natural beauty to the area, creating green oases in the concrete jungle. They are not only an aesthetically pleasing element of the space, but also they improve air quality, noise absorption and provide shelter from the heat for residents.
The inhabitants of Zielona Góra are fortunate that their city is one of the greenest cities in Poland. This aspect directly affects the quality of life here and, and at the same time, influences the city's attractiveness for foreign tourists.