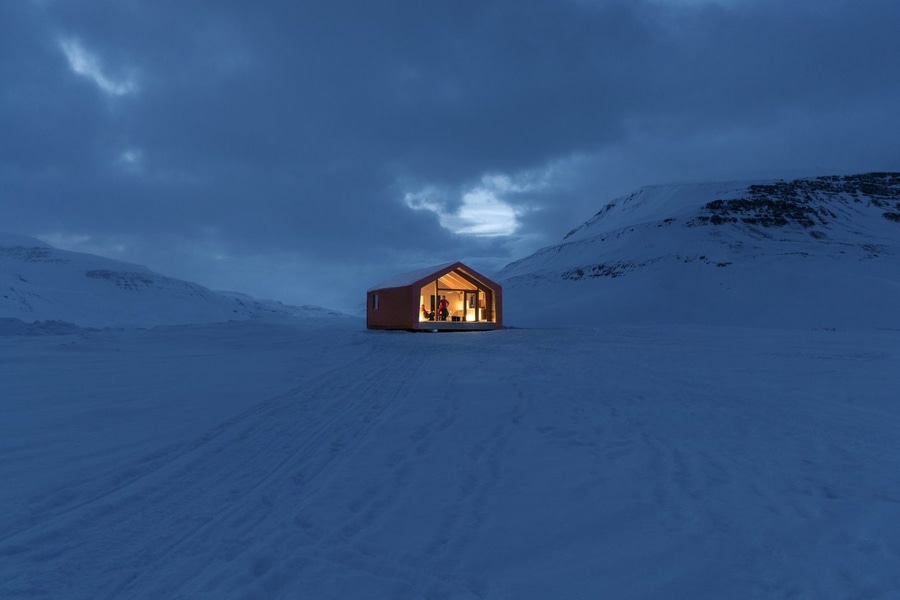 #

Inspiration
Ariston's Modular Home for Extreme Climates
As a leader in the global thermic comfort market, Ariston launched its comfort challenge to ensure that thermal comfort could reach anywhere in the world. The result? The Ariston Comfort Zone, an innovative modular home. The modular home, containing
The team of researchers of the University of Copenhagen selected Qeqetarsuaq, better known as Disko Island, as their hunting ground for scientific research on climate change. However, Disko Island has always made long-term stays impossible for scientists due to its frigid winter temperatures and adverse weather conditions. Until now.
In order for the team to carry through their mission of collecting and examining samples in Disko Island, they needed an innovative infrastructure to act as a stable base against the icy island.
The Greenland Mission, the first edition of the Ariston Comfort Challenge. Three Ariston installers dove into the unknown to deliver and assemble a warm and innovative modular home specifically developed as an energy-efficient, sustainable solution able to endure the most extreme climate conditions.
To maximize comfort, the home includes the Ariston Alteas One, a high-tech heating product with condensing technology. The condensing wall-hung boiler features high energy-efficiency technology and the new Per4mance System, based on a synergic combination of Ariston's exclusive technologies. The boiler, styled with the contribution of UP Design, ensures high performance with very low emissions making it a durable, warm, smartly connected and efficient experience for full comfort even in locations with extreme weather conditions.
"Alteas One is a product that shouldn't be hidden, it should be, with the utmost dignity, one of the protagonists of the interior design of a home," said Umberto Palermo, head designer and founder of UP Design, in a press release.
Palermo feels a good design does not merely relate to aesthetics but is also closely linked to simplicity.
"An object that is simple to assemble and simple to produce with less energy consumption quickly becomes more sustainable"
"It's no coincidence that Alteas One is the first glass-lined boiler, as glass is one of the easiest materials to recycle."
Quick-to-assemble and 75% Less Waste
Ariston conceived the Ariston Comfort Zone, the above-mentioned modular home, in collaboration with Italian manufacturer LEAPfactory S.r.l. This project required a new mindset, according to Luca Gentilcore, founder of LEAPfactory, who stated in a press release:
"What we created in Greenland represents a different construction called 'frame' and requires assembling on the spot. The first challenge was to build a quick-to-assemble industrialized kit that could be usable even in very cold, windy environments."
Modular systems reduce cost and environmental impact. Each element of the Ariston Comfort Zone is categorized in a numerical form, eliminating the typical errors of construction sites, equating to 75% less waste. This is why, during the planning phase, the team noted every last detail to ensure nothing would be missing from the project.
"We listed every component so that not even a single screw would be forgotten."
In order to understand if there were any last-minute adjustments to be made or mistakes to be taken care of, the house was pre-assembled in LEAPfactory's warehouse in Italy within a week. All structural and plant components, all functional, electrical, hydraulic and thermal systems were tested. Then it was dismounted and well packaged inside the shipping boxes.
The obstacles went beyond construction and creation but involved logistics. The elements of the kit were shipped from production headquarters in Osimo to Aalborg in northern Denmark, where all the equipment was put into a container and sent across the turbulent waters of the Arctic Sea, a two to three-week journey.
"The container reached Disko Island and, once unloaded, all the materials were carried on a snowmobile or even on dogsleds."
After the kit arrived at its designated destination, it took only 20 days for the team to assemble it. Local involvement took form in the construction work, for which the inhabitants of Qeqertarsuaq provided most of the manpower. The structure features a living room, bedroom, bathroom and 2 technical rooms, able to host up to six people at the same time.
The main technical features include:
Framework: Micro-lamellar beechwood framework from certified cultivations.
External cladding aluminum pre-painted shingles.
Façade windows: in larch wood with hinged openings with thermal break.
Partition walls: textured wood panels with internal acoustic isolation.
Internal floors: self-adhesive vinyl flooring.
External floors: In slats of solid larch wood with non-slip surface.