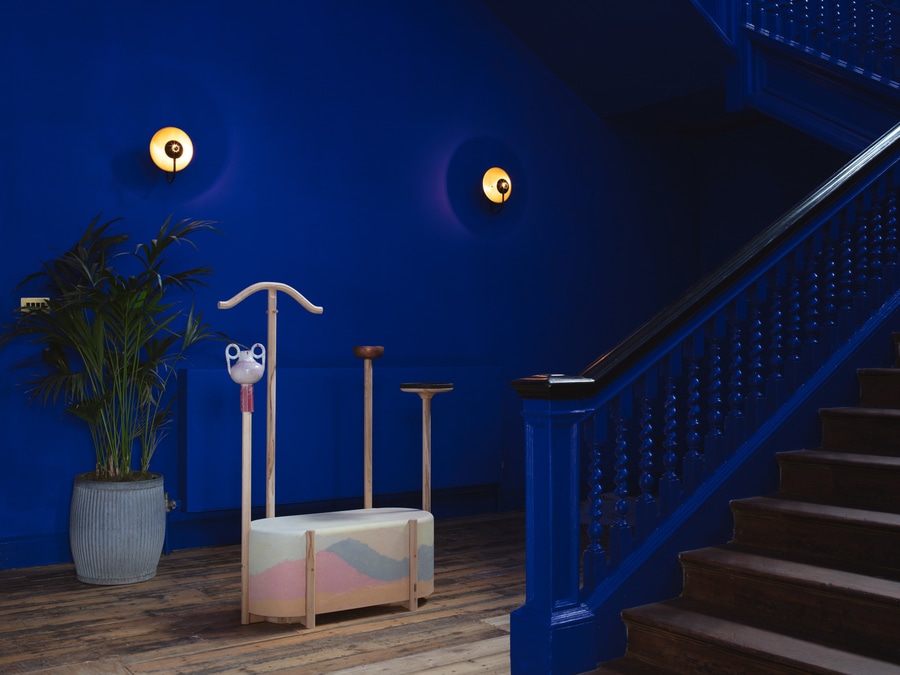 #

Inspiration
Designers Clean the Planet by Making Recycled Plastic Classy
As the world celebrates Earth Day this year, we turn our attention to designers and brands around the world who create products from recycled materials.
Furniture made with recycled plastic is getting on top of the list of sustainable design goals, and various designers are now creating pieces with this waste material that are not only classy but also fully functional. From a simple valet stand transformed to a quirky modern decor object made with waste plastic to chairs formed from recycled "stretched taffy plastic" designed by Plasticiet, there's more than meets the eye when recycled plastic is used in designing and creating objects that inspire.
Modern Valet Stand
Other than hanging our coats and bags, valet stands don't get that much attention, but architecture studio Red Deer and Jan Hendzel Studio thought otherwise and created unique valet stands for the Birch Hotel. The valet stands are highlighted in each hotel room like a functional piece of art. Each one is anchored by a marble orb created with waste plastic mixed with dyed resin by material designer Charlotte Kidger. This circular orb base was formed from a mold where plastic material was poured in layers, resulting in a multicolored effect that resembled a round pastel candy marble.
Other parts of the valet stand were created by different designers that include Emma Louise Payne, who made the ceramic plate holders and metalsmith Lucie Naujalis who created the hand-beaten copper bowls that would hold small pieces.
Jan Hendzel Studio crafted the wooden stands from laminated pieces of sycamore and ash wood grown from the United Kingdom and sourced from continuous cover forests, making the modern valet stand a sustainable designer piece that would last a long time.
Using taffy-like Plastic to Make Chairs
Over the years, manufacturers have been slowly shifting to using recycled plastic in creating chairs. Dutch startup Plasticiet is one of these manufacturers, and not only do they create chairs from recycled plastic, but they also added new value to this waste material by creating a limited-edition collection called Mother of Pearl made with it and was debuted at the Collectible Design Fair in Brussels held last March 2020.
The collection consists of a chair, stool and shelving design made with slabs of pearlescent polycarbonate that features a swirling finish that looks like iridescent wavy lines that are found in shells. This finish was created by stretching recycled plastic, which is the same technique applied when making chewy taffy from hot sugar. The stretched material is then folded multiple times, creating aeration in between the folds. Tiny stretched air bubbles captured within the translucent plastic create the sparkle to the material, elevating the object into a piece that resembles a classy marble sculpture.
Plastic Bottles into Fabrics
From solid plastic bottles to soft textiles, British textile company Camira has woven fabrics with yarns and material made from recycled plastic collected from the sea and coastal areas. The textile collection, called Oceanic, has fabric pieces with 50 percent of the fibers woven into it that were sourced from the Mediterranean sea as part of the SEAQUAL Initiative, a group that aims to fight marine plastic pollution by collecting and processing plastic bottles found.
Camira shared through a press release on their website that with every 2 kilos of fabric, one-kilo of waste is removed from the sea. One meter of fabric is equal to 26 plastic bottles. The process starts with collecting marine plastic and post-consumer plastic bottles from the sea, then the waste is washed and shredded into a mixture before being extruded into chips. The fibers are made into yarn, before being sent to Camira's factory in England.
The British firm has also made other fabric collections, called Xtreme, Lucia and Rivet, from recycled plastic water bottles. They also practice a circular production method with its yarn supplier where remnants from its factories are brought back to their supplier and recycled into new yarn.
3D-printed Lampshades
Modern lighting pieces made from recycled materials are becoming common nowadays, but a lampshade that is 3D printed on-demand using recycled plastic is something new. London-based lighting firm Plumen collaborated with 3D-printing specialist Batch.works and created shades that are 3D printed using recycled plastic.
Plumen's lampshades are made from plastic recycled from refrigerators, water bottles, and other plastic pollution sources. The lampshades are designed to fit and house the low-energy bulbs that the company specializes in making. The first lampshade collection called Ribbon was created in partnership with French studio Bold and German product designer Matthias Lauche. The Ribbon lampshade collection was launched last November 2019 with other upcoming lampshade collections to be launched this year.