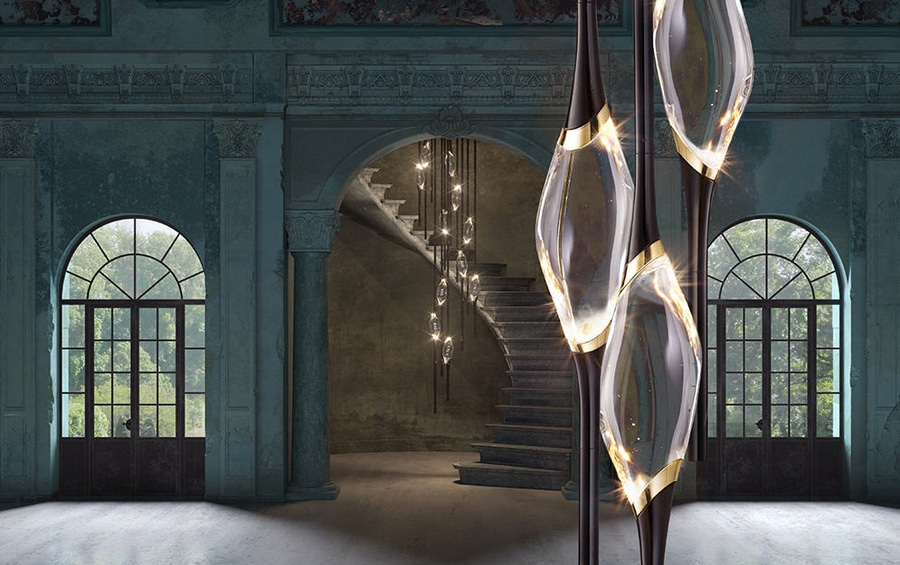 #

White Papers
Luxury Interiors: Top Product Design Brands for 2021
The rollercoaster year 2020 has shown us how luxurious and comforting interiors have become ever vital. For this reason, our content team has put together a list of go-to brands and their latest products for your luxury interior projects of 2021.
In this list of selected brands, we focus on luxury products fitting for interiors such as bed design and lighting. We feature some of our favorite luxury brands; however, there are many more companies we love that are not mentioned here. It was not an easy task, but our content team took the time to put together an ensemble of brands with eye-catching new products.
Boca do Lobo Released Lapiaz Headboard
For the first time ever since its founding in 2005, Boca do Lobo has launched a handcrafted bed design. The Lapiaz Headboard has organic features including a wood structure with casted brass details hammered by hand; it is upholstered in velvet with foam inside and finished with a polished brass frame. It was inspired by the authentic karst formations created by surface dissolution, freezing or thawing of limestone or dolomite rocks.
A platform bed can be added under request and it can accommodate a range of mattress types. It is, for now, available in white and black. The structure allows the placement of an electrical outlet on the sides. It can include a USB for charging.
Boca do Lobo is renowned for its furniture, upholstery and lighting products handcrafted in Portugal where talented artisans use traditional manufacturing techniques combined with the latest technological methods in order to shape the finest materials into one-of-a-kind design pieces.
Edition Bougainville – Luxury Rugs
The 2020 catalog published by high-end rug manufacturer Edition Bougainville, founded in 2012, has several collections that vary in style and can be custom-made. The company has added new creative designs to its collections Renaissance, Charleston, Chromatic and Inspiration. The newest collections released last year are Allegory and Patrimoine.
Established in Cannes, five designers work together to scope new trends in order to combine them with the cultural heritage of the classic French carpet and ancestral secrets. For this reason, we can see recognizable elements in their designs such as counterparts in inlays, old upholstery fabrics or ornamental motifs.
The company has also developed a policy for recycling and recovering its carpets and carpet waste. Having partnered with Optimum, the products are converted into high-efficiency industrial pellets, used in the cement industry, as alternative fuels with high calorific value, replacing non-renewable fossil fuels.
New Products (images below):
Aldebaran Manille: from Renaissance Collection – Hand-knotted in all pashmina
Nexus Danube: from Inspiration Collection – Hand-Knotted in wool and pure silk
Nullarbor Jay: from Inspiration Collection – Hand-Knotted in wool and pure silk
Olympus Moonbeam: From Inspiration Collection – Hand-Knotted in wool and art silk
Bebour Ivory: From Inspiration Collection – Hand-Knotted in wool and tencel
Chaplin Latte: From Charleston Collection – Hand-Knotted in all tencel
Armstrong Gypse: Fron Charleston Collection – Hand-Knotted in all tencel
Beam Jade: From Chromatic Collection – Hand-Knotted in all tencel
Lighting: Semeur d'Étoile Released Colliers/Courbes
Semeur d'étoiles designs and manufactures lighting artworks: sculptures, chandeliers, lighting walls and ceilings. The company's latest lighting products released last year include Colliers/Courbes, "curves/necklaces" in English. Curves (rigid) and Necklaces (flexible) are made of mouth-blown glass, brass knuckles and LEDs.
The Curves draw generous or geometric shapes; they can be customized. Either the team at Semeur d'étoile can create it or the customer can choose to send them a shape that they will reproduce.
The Necklaces are flexible, they offer multiple hanging possibilities: suspended by one end or both, one or more Necklaces separated or attached to each other, a Necklace placed on a piece of furniture. The glassware is customizable and can have the same or different diameters and textures. The technical parts are hidden inside the glass.
Click here to check out the 2020 catalog https://www.semeurdetoiles.fr/wp-content/uploads/2020/04/Semeur_d_Etoiles-Book.pdf.
Lighting: Il Pezzo 12 Round Chandelier
Founded in 2010 by Cosimo Terzani and Barbara Bertocci, the Italian brand Il Pezzo Mancante produces handcrafted furniture pieces and lighting out of raw materials such as solid wood, brass castings, hand-blown crystal and Carrara marble. One of their most recent creations is the Il Pezzo 12 Round Chandelier collection and, more specifically, the gold version of Il Pezzo 12 Round Chandelier.
The chandelier represents a female figure suspended in the air, carrying in her womb the light. The solid clearest crystal, illuminated by two LEDs, creates diffused ambient lighting and casts amazing patterns around the room. It's suspended between brass stems and brass casting rings, available in different finishes. At the end of each stem, another LED spreads a direct light.
It can come in various compositions and even create cluster chandeliers. Each lamp is numbered and hides its own identity stamp that seals and guarantees the authenticity and uniqueness. The collection is hand-made in their atelier in Florence. Available in custom sizes and finishes.
Coming soon from Il Pezzo 12: a floor lamp that will with a marble base with stems and crystal drops lit by LEDs; and a new table that will have a non-traditional shape top made of solid wood and a back-lit central vein made of alabaster or of a thin slab of marble. Stay tuned.
OTHER BRANDS
We recently published an article on Italian brand Porro in which we highlight some of the company's newest products and latest activities. In September 2020, the company launched a collection of modular pieces designed by art director/designer Pierro Lissoni and having its furniture designed by GamFratesi make its way into the new linen collections of Frette.
We have also published a full article focused on a young brand we discovered last year founded by the Davani Group. After an in-depth interview with the CEO, we chose to publish a piece on the brand's new Purity collection of tables and the brand as a whole. Find the article here.
For another luxury lighting option, we invite you to look into Atelier Alain Ellouz. As for furniture, one of our favorites remains B&B Italia.