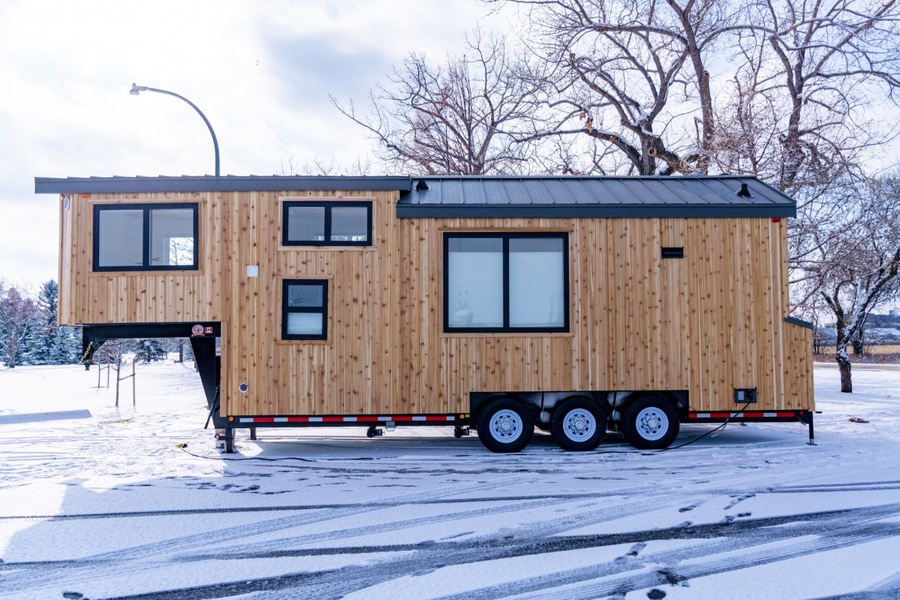 #

Industry News
Spotlight on Tiny Home Builders: Teacup Tiny Homes
Jennifer McCarthy, founder of Teacup Tiny Homes talked about why she started building tiny homes and shared one of their latest tiny home models during her online session at the Tiny House Conference held on March 6, 2021.
Tiny homes have been gaining a lot of popularity in the last few years and this year's Global Tiny House Conference held last March 4 to 7, 2021 was an event that attracted a lot of interest and participation among homeowners, home builders and designers who are looking to build their own tiny home.
The online conference featured different design professionals, representatives and industry leaders who shared their respective stories on how to build, design and maintain a tiny house. One of the speakers at the event was Jennifer McCarthy, founder of the Teacup Tiny Homes and she talked about tiny homes and presented their latest tiny home model: The Luci.
What is Teacup Tiny House?
Teacup Tiny House builds and designs tiny homes which can be delivered anywhere in the US and Canada. The company started in 2015 and has been part of the growing tiny-house movement which advocates living simply in small homes.
In 2017, Teacup Tiny House launched their first tiny home which was built in their headquarters in Lethbridge, Alberta, and since then, the company has built many tiny homes for customers in Canada and the US. One of their most popular tiny home models is the 22 feet long and 8 feet 6 inches wide Tagish Tiny Home which can accommodate a maximum capacity of 4 people in its 227 square feet space. It is easily tow-able with a double loft and an abundance of storage in the bathroom.
"Our build time is about 4 to 6 weeks right now, depending on what you are looking for and how custom you want to go," said Jennifer McCarthy.
Why build tiny homes?
McCarthy shared in the first part of her session that she started building tiny homes to give an opportunity to people to live life to the fullest. She started Teacup Tiny Homes to address the need in attaining a simple and sustainable lifestyle by building tiny homes that consumed less energy, at the same time contributed to the well-being of nature and the environment.
"In 2015, my world changed. Basically, I started looking at life in a way that I never looked at it before. I climbed the corporate ladder at a home builder (firm) where I was working for 13 years and I have been in interior design and residential home building since I was 18 years old and I absolutely love it. I just had this moment that something in this world had to change and HGTV was on with shows that inspired me and influenced me to take the leap into building tiny homes for people around North America," said McCarthy.
Their latest tiny home: The Luci
The company will launch their new tiny home with a stand-up landing called The Luci which is 30 feet long and 8.5 feet wide. McCarthy presented it during her session and informed everyone that the new loft-style home took months to design with their client. It features a movable wall that can be adjusted to allow space for an office or activities like yoga and exercise. It has a landing space on top that measures 5×5 square feet which is accessible with a narrow staircase that has plenty of storage installed. The bathroom is large with a full bathtub in tiles with glass partitions, a rarity in many tiny homes. The master bedroom is located on the 2nd floor also accessible with storage stairs.
"There are many customizations that can be done that are important when designing a tiny home and making it work for you," said McCarthy.
She ended her session by giving advice.
"You need to have the flexibility to design your tiny home the way you want it. You need to make sure that you have quality materials for your home to last a long time, even for 50 years."