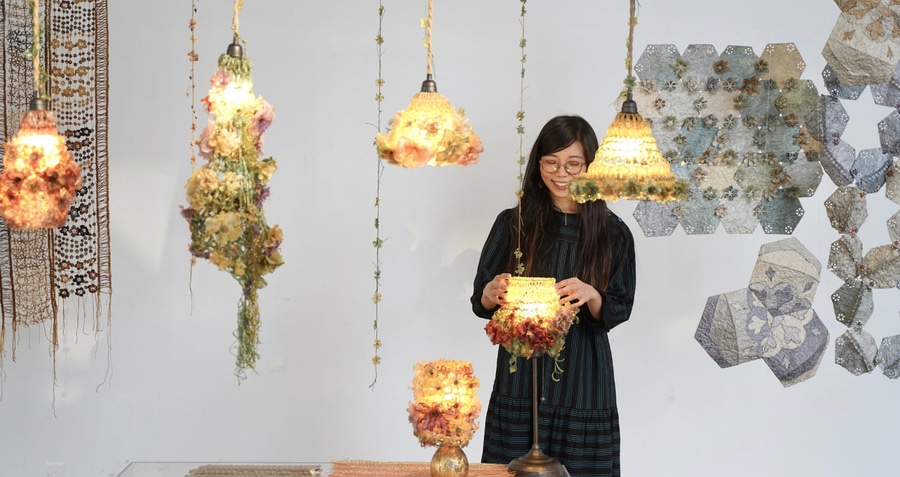 #

Trade Shows & Events
NYCxDESIGN's First Emerging Designer Residency in Partnership with Arts Thread
Four recent graduates of FIT, Parsons School of Design and The School of Visual Arts are currently in residence, transforming the storefront on Level 4 of The Shops at Hudson Yards, until the end of June 2021.
NYCxDESIGN partnered with Arts Thread on a three-month Emerging Designer Residency Program at Hudson Yards which began April 1, 2021, and will continue until the end of June 2021.
The four recently graduated designers are in residence to transform the storefront on Level 4 of The Shops at Hudson Yards into a pop-up studio where they will spend the thirteen weeks working on their impressive portfolios and showcasing finished projects.
Brought to life in a museum-like setup, The Shops at Hudson Yards invites the public to view the design process in action as the designers in residence–Lenny Vuitton, Yi Hsuan Sung, Xin Min, and Lizzy Itzkowitz–create one-of-a-kind products live in the space.
Visit Level 4 of The Shops & Restaurants at Hudson Yards to view the designers in their pop-up studio. Follow @nycxdesign and @artsthread throughout the residency to learn more about each designer and their work.
Yi Hsuan Sung @yihsuan_sung is a textile designer who is focusing this residency time on agar pendant lamps. She loves to combine handcraft and technology to create biodegradable textiles.
Lenny Vuitton @lennyvuitton has a lifestyle brand that unifies art, fashion and design while drawing relations to different aspects of life. He is focusing this time on rugs and pillows.
Xin Min @xinmin.studio mainly works on tabletop designs incorporated with the modern lifestyle. Her residency focus is ceramics.
Lizzy Itzkowitz @lizzyitzkowitz is a 24-year-old cartoonist, illustrator, pattern designer, and GIF creator from New York City. She'll be taking this time to work on custom silk-screened home accessories.