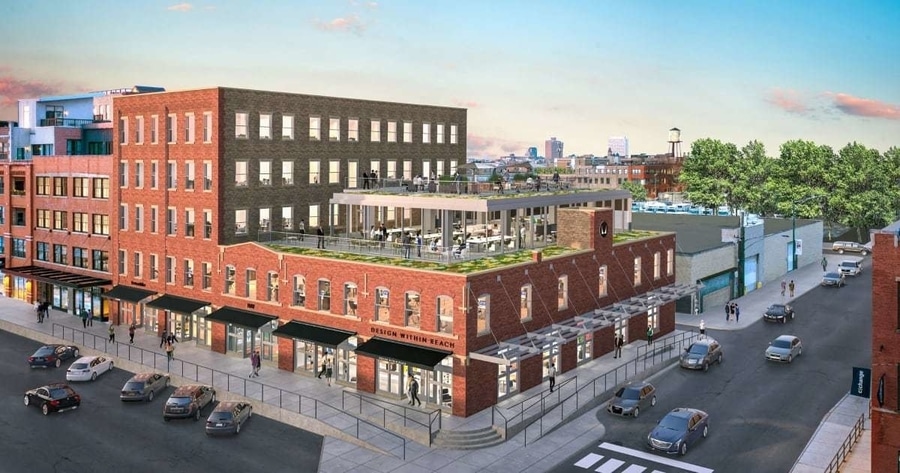 #

Industry News
New Herman Miller Store at Fulton Market
Herman Miller recently unveiled its multi-brand, multi-use, five-story destination at Fulton Market where shoppers can make retail and contract purchases.
The Herman Miller Group opened a new destination for its growing family of eight brands at 1100 W. Fulton Market, with a personalized storefront and ethos for its three distinct brands—Design Within Reach, HAY and Herman Miller.
After 80 years at theMART, this new retail, showroom and exhibition space is a 45,000-square-foot multi-brand, multi-use development. Upper floors cater to the architectural and design community, as well as business owners, facility managers and those grappling with how to design or redesign the workplace of the future as an illustration of post-pandemic life.
At the retail level, Herman Miller store, the fifth concept shop of its kind to open since Nov 2020, invites at-home workers to test-drive the benefits of "sitting well" firsthand.
Backed by decades of research and insights, Fulton Market also addresses the biggest questions CEOs, executives, facility managers, commercial realtors and designers are asking: What's next for the future of the office and beyond?
Responding to current market trends like work-from-home (WFH), the need for form and function at home, and an increased emphasis on wellbeing, this new location allows both designers and direct consumers to experience the brand in a whole new way.
As designers arrive at Herman Miller on floor three, they'll enter the heart of the design center. Maharam Digital Projects' Arche Noah by Sonnhild Kestler sets the backdrop for a lively, open lounge and meeting area–a space to gather, collaborate, engage and learn together. Trade customers will experience the company's signature human-centric approach with a positive and progressive outlook, which addresses re-entry into the workplace and new ways of working with a more distributed workforce, including solutions to reengage and rebuild a sense of community.
Here, designers will discover inspiration for ancillary spaces with an emphasis on furnishings for meeting, lounge, bistro and communal spaces, sprinkled with more private nooks for personal work and concentration throughout. Highlights include the debut of OE1, an agile, highly mobile modular workstation collection designed by Sam Hecht and Kim Colin.
A staircase leads down to a hardworking showroom on the second floor, where designers can compare a multitude of workstation options side-by-side peppered with archival objects celebrating more than a century of good design, as well as accessories available to shop downstairs at DWRand HAY. Designers will also find product highlights from subsidiaries Colebrook Bosson Saunders and naughtone. With space at a premium, open storage makes for a beautiful seating display andhighlightsHerman Miller's breadth of product with nearly 80 seating options on view.
In addition, the building meets WELL Building standards, and features two outdoor pavilions and exhibition space. The 45,000-square-foot location occupies a landmark 1920's brick building with an adjoining five-story newbuild, complete with a rooftop. Developed by Fulton St. Companies in close collaboration with Herman Miller's in-house design team, the structure retains the original façade and seamlessly blends into the surrounding historic meatpacking corridor, turned tech hot spot.
"We're thrilled to be one of the first retailers in this developing business and residential district within the city of Chicago," Debbie Propst, President, Herman MillerGroup Retail. "We've built a destination, and as the neighborhood evolves, we will continue to serve as a resource for the people who live and work nearby and look forward to helping them create a space that they'll love to call home."