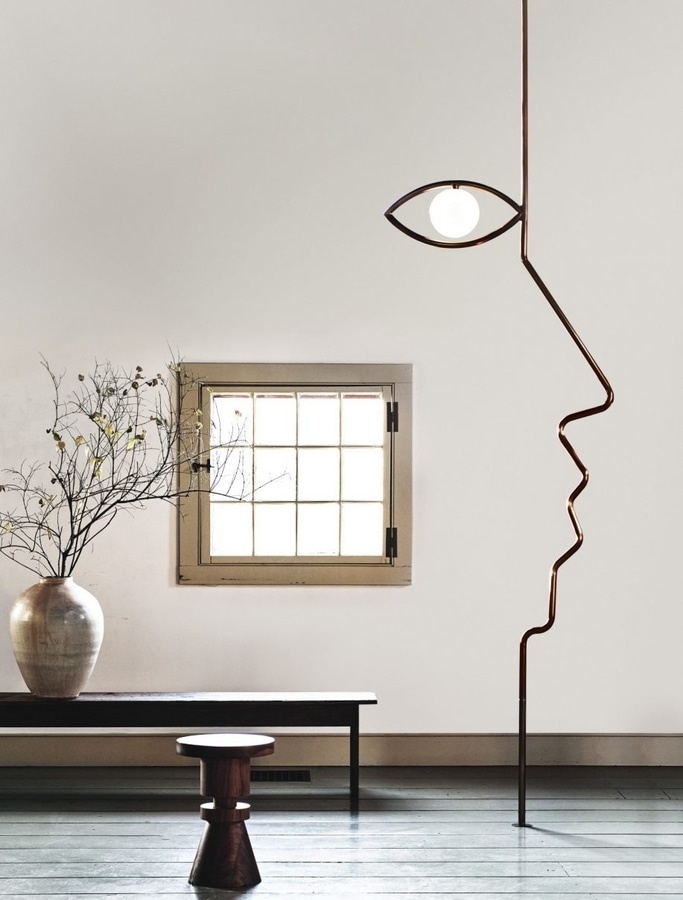 #

Industry News
Spotlight on NYC Designers – Lighting, Furniture, Deco, Art
In parallel to the NYCxDESIGN event, we've selected a few of our favorite designers from the city that never sleeps to feature.
The not-for-profit organization NYCxDESIGN is hosting its main event May 13-18, 2021, one noble activity amidst a large profile of platforms that help promote designers from NYC. The Magazine, for example, is one way NYCxDESIGN amplifies the voices of NYC designers, as well as its new podcast hosted by Debbie Millman entitled The Mic.
In 2021, NYCxDESIGN launched The Breakout Grant, focusing on entrepreneurship in independent design. The grant seeks to fund independent designers or design businesses that embody the entrepreneurial, creative and innovative spirit of NYC.
In sync with our coverage of the event, we've put together a list of some of our favorite designers from NYC.
Anna Karlin Furniture + Fine Objects
Although Anna Karlin was born in London, she currently lives and works in New York where her studio practice has flourished. This self-taught product designer thrives in telling stories through the vast forms of design. Her most recent launches are the Face Light, Findings Light, Travertine Bump, Travertine Puddle, and the travertine version of our Form Light.
Each of these new products are beautiful, but there's something in a face. We're drawn to her Face Light (see featured) made of brass, glass, steel and aluminum. It's a floor-to-ceiling light sculpture that traces the profile of a face in tubular steel, with a rich bronze patina. Anna Karlin gave the sculpture an eye with a soft glow in order to bring the piece to life.
Biophilic Design by Opiary Studio
We've long since had our eye on Opiary studio as the trend for biophilic design continues to grow. Opiary is a Brooklyn-based biophilic design and production studio that integrates nature in each of its designs by incorporating live greenery and organic shapes into bespoke, custom furniture, planters and sculpture. Each piece is modeled by Opiary's founder, Robert Remer, and handcrafted in the company's Brooklyn studio by a team of artists and craftspeople.
Recently, Opiary has released its new Soy una Roca seating collection. Soy una Roca concrete rock seats are an elegant way to introduce nature and sculpture into a space. They're suitable for indoor or outdoor use as they're weather resistant. The pieces are custom-made with smooth concrete sculpted and polished by hand. They feature integrated pockets for vegetation and have hidden casters, allowing you to move them indoors and out.
THE SOY UNA ROCA COLLECTION
● Sculptural seating with integrated planters and hidden casters
● Indoor/outdoor use and extremely weather-resistant
● Handmade by artisans in Opiary's Brooklyn studio
● Fully customizable and made to order
● Sold individually
Custom Furniture Designer and Maker, Reed Hansuld
Originally from Canada, Reed Hansuld has his furniture and product design manufacturing company in Brooklyn, New York. He creates a balance between functionality, high-quality craft and modern values. As a believer in sustainability, he aims to create long-lasting products that users can engage with as a way to personalize the experience for generations to come.
He works on new one-of-a-kind designs commissioned by clients but he also has an existing customizable collection of furniture. Reed Hansuld is in high demand with his manufacturing shop booked six months in advance.
Custom Furniture Designer and Maker, Blake Anding
Self-taught product designer Blake Anding bought bespoke furniture manufacturer and design company Classic Sofa whose doors had previously been closed following the mortgage crisis of 2007-2008. Alongside talented artisans, he learned how to produce furniture, including how to do upholstery.
He has since grown the business and has worked with renowned interior designers on high-profile projects—Trump SoHo, The London NYC and Andy Cohen—, but the company is most proud of its quick lead times. After receiving the fabric, they manage to produce and deliver completed projects in three to four weeks compared to the average 12 to 16 weeks by competitors.
LINK >> to article in American Essence = READ an interview with Blake Anding in American Essence
A Family Tree of Tradesmen Led to Craftsman Joseph Cauvel
Having grown up surrounded by a variety of hardworking tradesmen in his family, Joseph Cauvel plunged into craftsmanship and opened his design studio Cauv Design in Red Hook, Brooklyn. He uses hardwoods that are obtained through sustainable or natural sources and for every piece sold, a donation is made to an organization focused on planting trees in national parks that have suffered losses due to disease, insect outbreaks and wildfires. His slogan is "purchase a piece, plant trees".
Atelier Eva commissioned him to do the furnishings for a new space they secured in 2019 in Williamsburg Brooklyn: bespoke furniture in black walnut and maple and bleached ash. Throughout the year 2020, during the global challenges, Joseph Cauvel worked with Eva to complete the interior for her new tattoo studio space.
Distinctive Designs with Natural Materials by Gregory Buntain
Designer Gregory Buntain founded his studio Fort Standard in Greenpoint, Brooklyn, in which he merges progressive design thinking with an obsessive approach to craftsmanship. He designs standout lighting, furniture and home goods that are made of natural materials and modern production processes.
The furniture pieces he launched in 2019 are splendid and when the pandemic hit the city hard, Fort Standard was one of many design brands to contribute pieces to an auction to help provide PPE to city health workers by donating the proceeds to humanitarian and organization Direct Relief.