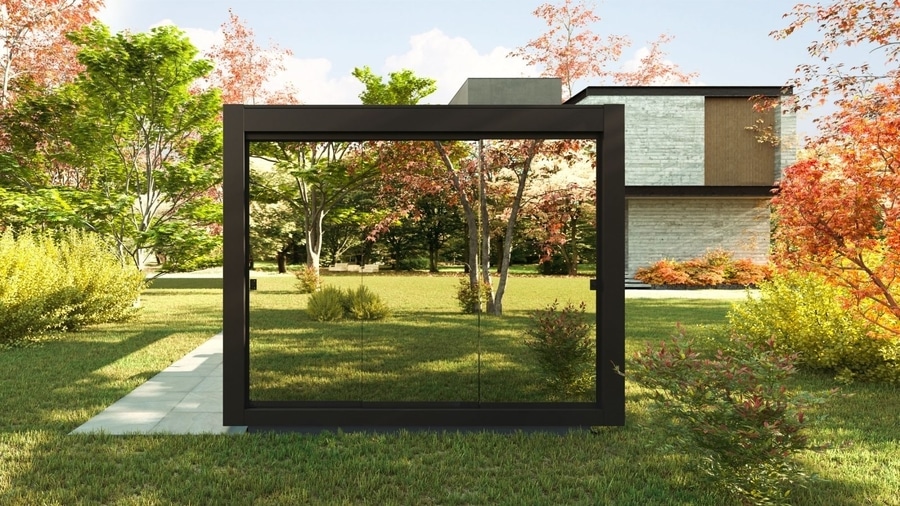 #

White Papers
What to Consider When Designing Pergolas
On the road to designing a pergola for a client? Here are some useful pointers.
As summer approaches, architects will have a higher demand for requests to integrate a pergola into the landscape of their clients' property. Here are some pointers to consider when designing pergolas, including the materials that are ideal to use, the type of installation needed and the recommended size and measurements to be done.
The Bioclimatic Pergola, a Professional's insight
The pergola designates an open terrace cover providing additional living comfort in your garden; however, not all pergolas are bioclimatic. We spoke with professionals at Cauchi Design to learn more about the difference between traditional pergolas and those that are bioclimatic.
"When it is bioclimatic, it means that it takes the climate into account. It is therefore equipped with adjustable aluminum slats which can, as needed, let in the sun to warm up in winter or, on the contrary, protect itself from it during the hot summer months," said Mr. Cauchi, President of Cauchi Design. "The exposure of the house is also a criterion for determining the direction of the adjustable slats on the bioclimatic pergola. The aluminum slats can be oriented parallel or perpendicular depending on the exposure of your home in order to maintain the bioclimatic effect."
The French company has been representing the Solisystème brand and its bioclimatic pergola designs for more than 15 years as an exclusive dealer for several departments in France. When the company began selling pergolas by Solisystem, bioclimatic pergolas were less common on the market compared to now.
Solisystème is the inventor of the bioclimatic pergola, which it has been marketing for more than 25 years. The brand patented its product when it was created by Mr. Castel, which allows it to be unique. Often copied but never equaled, the Solisystème bioclimatic pergola by Cauchi Design has been tested by the Scientific and Technical Center for Building for its resistance to wind and rain. It's certified Origine France Garantie, which is an important criterion for the team at Cauchi Design.
It's in the Details: Materials, Installation, Measurements
Standard materials that can be used in designing pergolas include metal, vinyl, stone, wood, plastic and composite. Metal is a good choice should you wish to have your pergola last a long-time. The easiest material to maintain is vinyl. Opt for ecologically friendly or FSC-certified wood for your pergola or source timber that is harvested locally and near your home. Keep in mind that wood requires the most maintenance and needs to be weatherproof.
There are different installation types of pergola: self-supporting, wall-mounted and hanging. If there is a garden or pool, a self-supporting pergola is recommended. If you are creating an extension of the home, adding a wall-mounted type of pergola will extend the living space outdoors. The hanging pergola is the easiest to install as it is connected directly to the wall, without any supporting pillars, giving it more space as there are no pillars or posts that restrict movement below it.
In terms of measurements, the typical size of a standard pergola is between 8 to 12 feet high. This depends on the area and the location that the pergola will be situated in. Here is a video from Pergola Depot which gives a short brief on how to measure a pergola.
Design the pergola in a shape that will enhance the exterior space and complement the home. An interesting tip that ensures that the pergola area is square is to use the 3-4-5 Method which makes sure that two lines are 90 degrees to each other. This method can also be applied when doing the layout for the location, angles and sides of the posts of the pergola.
Inspirational Examples of Recently Designed Pergolas
The latest pergolas from designer brands such as Pratic, Gibus and Goss Outdoors will give you some design inspiration.
Italian firm Pratic has released a modern pergola with walls made with mirrors and retractable aluminum sunshade blades called Connect, and it is an example of a pergola that is ideal for a modern-styled home or commercial space, thanks to its sleek design and innovative use of reflective glass as the main material. Connect is also one of the first bioclimatic pergolas in the market now that takes advantage of a special technology that naturally regulates lighting, heat and ventilation.
The Varia Island, a modern self-supporting structure from pergola design brand Gibus, can be easily installed beside the pool or garden. The Varia Island can also be closed with both glass walls to face cooler months and screen awnings during summertime. Another well-designed pergola is Howvin's award-winning pergola called Mirador. The hanging pergola is considered the easiest to install as it is connected directly to the wall, without any supporting pillars connected to the ground. It gives more space also as there are no pillars or posts that restrict movement below it. An example of a good hanging pergola is the B-Cube from British shading systems experts Goss Outdoors and also their custom-made Falcate hanging pergolas, which are ideal for a bigger outdoor space.