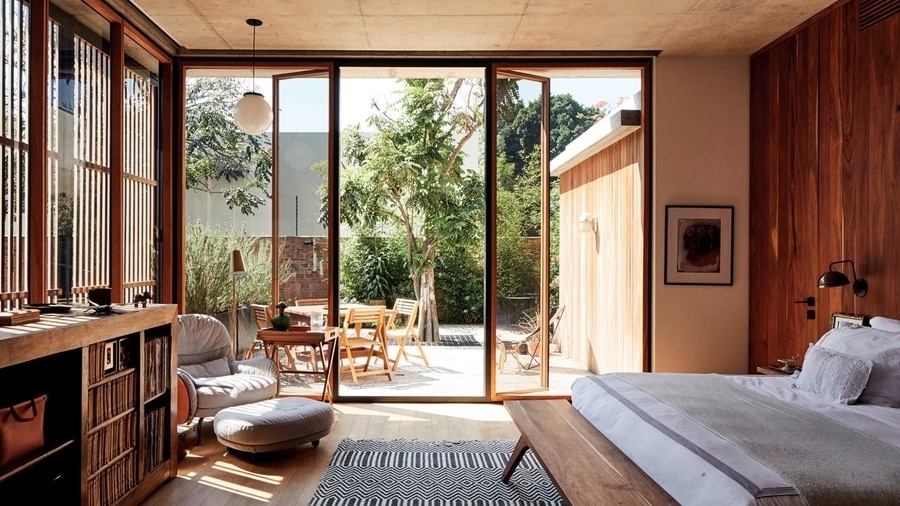 #

Inspiration
7 Tips on How to Decorate your Bedroom like an Interior Designer
This article was written by Luna Williams who specializes in writing interior-focused features and guides on behalf of home, design and lifestyle clients.
For many of us, our bedroom is our refuge. It's a place to unwind after a hard day and tends to be a much more personal and private space than a living room or dining room, where visitors are hosted. Because of this, when it comes to decorating a bedroom, professional designers and architects tend to opt for designs that focus on comfort and personal functionality, over those that are overly stimulating or social-centric.
Whether you're designing from scratch or you're looking to add to or reimagine an existing space, these 7 professional-inspired suggestions will help you design the perfect bedroom.
Opt for Subtle Colors
In order to professionally decorate any space, the first thing you need to think about is color. No matter how neutral or vibrant your room is set to be, it's important to first establish the palette you'll be working with before you think about furniture, decorations or soft furnishings.
When it comes to designing bedrooms, most experienced interior designers and planners tend to opt for subtle base palettes, which they can then inject color into as they build up. Though there are no hard and fast rules about this (and bedrooms should always put the personality of the person living in them as a priority), more subtle palettes tend to produce the most naturally relaxing environments.
Ideal color combinations could be blush pinks and greys, neutral, earthy tones, like browns, greens and mustards, or cool blues and turquoises.
When choosing your palette, try to opt for colors that complement one another. This is more aesthetically pleasing and can help to create a visually soothing atmosphere. To find complementary colors, you can try using a color wheel for inspiration; to do this, look for colors that are opposite one another on the wheel. Equally, Elle Decor's bedroom palette roundup is perfect to use to find a starting point for a bedroom color scheme.
Leave Space to Move
When designing any space, architects and designers should bear 'flow' in mind (no one wants to have to clamber over their bed to get to switch off the bedside lamp, or risk banging their toe every time they try to open their wardrobe!).
When adding furniture, make sure you leave space to walk between everything, like in this design by Bergamon Interiors. Equally, you can also avoid clutter by incorporating in-built storage into your design — which is particularly useful in smaller spaces. This fitted blue wardrobe design by Neville Johnson is a great example of this.
What's more, avoid overcrowding areas of your room, including shelves or cabinets; an overly cluttered desk or bedside table can make the difference between an idyllic and stressful atmosphere.
Work in a 'Nook'
If you have a bigger space to work with, it can be worth adding in a small 'nook' to help make your space feel even more relaxing and private. If designing from scratch, sunken areas can be particularly comforting, especially when placed in the corner of a room.
A more simplistic nook could include a window seat (long benches work well when placed near low windows), a small sofa, or even just a comfortable armchair and footstool. This London apartment design by Brady Williams includes an excellent example of how adding a small armchair and free-standing side-table can add an extra cozy area to a bedroom.
Balance Your Furniture
When it comes to furniture, a phrase that many professional house planners and interior designers often discuss is 'visual weight'. By this, they mean the size and depth of each piece of furniture in the room.
For instance, a bed headboard made using a thin bamboo frame will have a smaller 'visual weight' than one that is made from a solid material like a panel headboard.
When designing your room, think about balancing the visual weight of your furniture. For instance, if you do opt for a solid headboard, choose a chair with a thinner frame.
Just as too many non-compatible colors in one room can be difficult to digest, too many 'visually heavy' items can have the same effect. Our brains crave symmetry and balance, and so balance should be at the center of every element of a room design, especially one which is supposed to be as comforting as a bedroom.
Read our guide on ArchiExpo to help select the right bed for your bedroom.
Add a Range of Textures
Well-partnered textures, and good use of layering, can also help to relax us. Studies show that providing several different textures in one space can help us to feel more comfortable in our surroundings.
Hard floors are very on-trend in bedrooms right now, but too much of the same floor surface can also feel a bit clinical. To combat this, incorporate small statement rugs to break up the texture and add light throws and blankets into designs to help build on this even further.
Need help in choosing the right rug? Read our guide on ArchiExpo.
Layer Lighting
Lighting plays a huge role in any space and can make all the difference when it comes to being able to alter the atmosphere of your bedroom. For a professionally designed feel, layer up your bedroom lighting. This involves including a range of light sources, which you can selectively use to dim and brighten the room depending on the circumstance. To effectively layer lighting like a professional designer, your room should include three types of light source:
. Ambient lighting: this is the lighting that initially illuminates your room to create base lighting. This can be from several sources (like the main ceiling light, and floor lamp for example), but it should create enough light to be able to easily navigate around and see everything in your room.
. Accent lighting: this lighting builds on your ambient lighting. This could come from smaller bedside lamps, lava lamps, or candles. It is designed to add extra layers of light and accent smaller areas of your room. It is your accent lighting that helps to create a cosy and relaxing atmosphere in your bedroom.
. Task lighting: this kind of light is included in designs for functionality purposes, and helps you achieve certain tasks more effectively. Examples might be a desk lamp or a reading lamp next to your bed.
For more information on how to layer lighting, read Pooky's guide. To help you choose a good bedside lamp, read our guide on ArchiExpo.
Level Up
Studies show that the human eye is designed to find different levels appealing and, because of this, if you are looking to decorate your bedroom like an interior designer, it can really help to be conscious of incorporating different levels into your room. This could be as simple as including a set of four alternatively-sized vases or styling a bookcase with piles of books of different heights (for more information on this, read House Beautiful's guide).