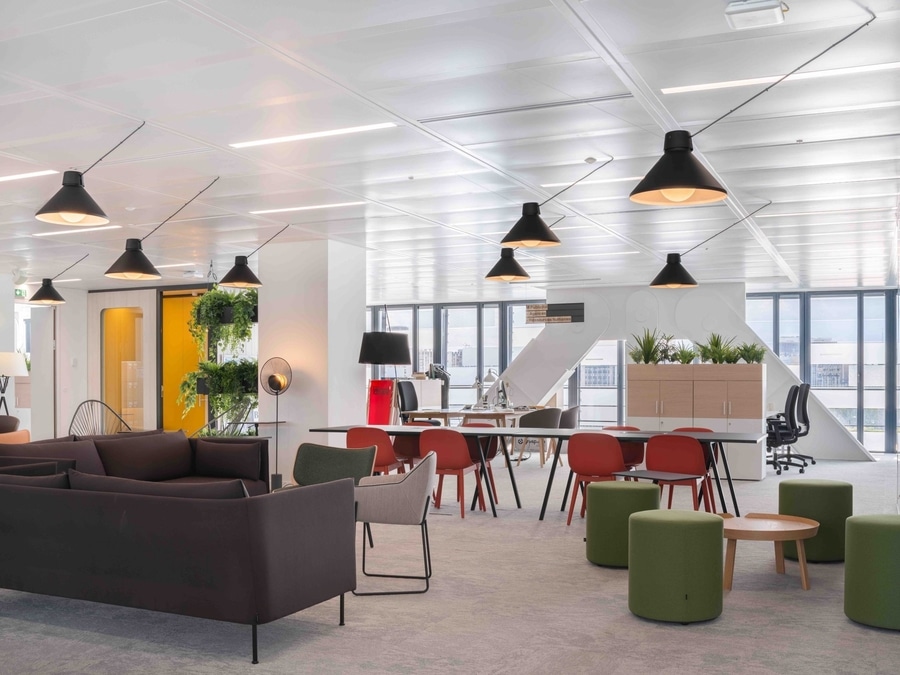 #

Trade Shows & Events
Maison&Objet: Let's Talk Work! (at Home and the Office)
Maison&Objet Paris is running from September 9 to 13, 2021. On our first day touring the event, we gathered some information from professionals during the design talks and scouted Hall 6 for home office products (the new best thing) and traditional office solutions.
September 9, 2021—Maison&Objet held its first physical fair since the beginning of the pandemic, and the organizers left nothing out. In three consecutive design talks, professionals emphasized the evolution of the traditional office, the expansion of the home office and the importance of nature for improved well-being and productivity while working.
How Media Groups Adapt to New Office Typologies
Vincent Dubois, managing director at Archimage, and Gilles Van Kote, head of project and journalist at the French newspaper Le Monde, held a conference on the publication's new office building. In reality, the new office opened in 2020; however, excitement quickly came to a halt as the first confinement of the pandemic occurred. Today, they are back to celebrating the new building and are proud they can once again say they own their own building—in 1985, Le Monde had to sell its historical office in Paris.
Archimage designed the interior of the Le Monde group's new offices (a Snøhetta project) in accordance with a brief focusing on openness, transversality and the importance of preserving the specific identity of the publications present on site. Adapting to the evolution of the traditional office, the interior is an open-office space.
"It's not like the classic American films, though," Gilles Van Kote said, in reference to the chaotic open space offices of the past we can see in movies such as His Girl Friday (1945).
Although it is an open office space, there are areas with more privacy such as the meeting rooms, interview corners and the big editorial conference room where they meet every day at noon which is semi-open.
"We're following the evolution of the profession, " Vincent Dubois said, in regards to how the building encompasses the two forms of journalism: print and online. "Print journalism is coming out of a 15-year crisis."
The group chose not to adopt the flex office concept to avoid adding too much to the project. Certain roles often work closely together and need to have easy access to one another. Certain aspects of the office aren't being used much so they think analyzing the situation on a psychological level will help figure out.
Ahead of His Time, Christophe Pradère's Office of Tomorrow
Christophe Pradère, founder of BETC Design and CEO of BETC Asia, spoke about universal wellness. Mainly, he mentioned how we as a people are returning to our interest in locally-made, all things local, and nature. We're more interested in wellness than ever before but in honest and sincere intentions. More people are leaving the city to live in a village, a point to which Pradère referenced Fictions by Filip Dujardin, "The city is no longer the promise for a better world."
Nature in offices impacts wellness by 18% improvement, and productivity by 6%, according to a study Pradère shared. The BETC Design offices have integrated nature into their spaces several years ago. In fact, the company went so far as to include a new concept in 2017: La Cantine, wherein a renowned chef cooked with locally grown produce and offered exceptional dishes to all those working in the building.
"It's like a lab for the office of tomorrow," said Christophe Pradère, in reference to the BETC office completed a few years ago; it's called the Magasins Généraux.
Additional examples of wellness he showed included Triptyque for Hermès, Microsoft treehouses (outdoor meeting spaces created in 2017) and tiny houses as an external office for home working. Next to the design talk area, a workspace zone with multiple companies presented new home office and traditional office solutions.
French company Beezz launched early 2020, in the middle of the first confinement. The young team at Beezz work with local companies to produce their products entirely in France. The acoustic station can be made to measure and have different uses. Since they launched, they have a catalog of new office products on the market.
Finish design brand BlockO introduced a whole new meeting space with an eyecatching design combined with an automatic disinfection system this year. Disinfection lighting and antimicrobial coating destroy viruses and bacteria from its surfaces. The blend of Finnish wood, soft textiles, and beautiful steel or wood veneer finishes in a variety of vibrant colors caught our attention.
Home Office: A New Challenge for Interior Designers
In this talk, Dorothee Simon, founder of rencontreunarchi.com, and Alexandra Selig, co-founder of Selig & Renault, returned to the beginning of the pandemic when home working really exploded in France and around the world.
"First, we were getting requests for office desks for the house; later, it became requests for a dedicated office space in the home," Dorothee Simon said.
The two women defined the four main types of workers found through a study: traditional, office fan, wellness addicts and roaming workers or nomads. Traditional workers want to be in the office every day, separating their home life from their work life, while office fans enjoy going to the office but request one or two days of home office a week.
These two groups contain the largest number of workers; however, quite a large percentage of workers fall into the wellness addicts category. This type of worker requires three to four days of home office a week so they can eat quality food, have extra time for sports by cutting down on travel time to the office and take full advantage of their neighborhood. Nomads, well, they can work from anywhere but would rather not be in an office.
In the workspace zone, where multiple companies presented new home office and traditional office solutions, EOL had a fantastic selection of home office products. For more than 30 years, EOL has been designing and manufacturing 100% French professional office furniture. This is the first time they've started producing home office furniture. The time to enter the market is now. Homere is ideal for small spaces. Thanks to its small footprint, its modularity and its "home" design, it has been specially designed to fit easily into the world of the home. With its swivel and sliding tray, as well as its storage drawer, it allows you to quickly create your workspace and slide on itself to be forgotten.
We also took note of French company Dizy that exhibited a new desk for the home office that's quite cute and practical. In line with its eco-concept philosophy, the brand proposes furniture made from recycled and recyclable materials.