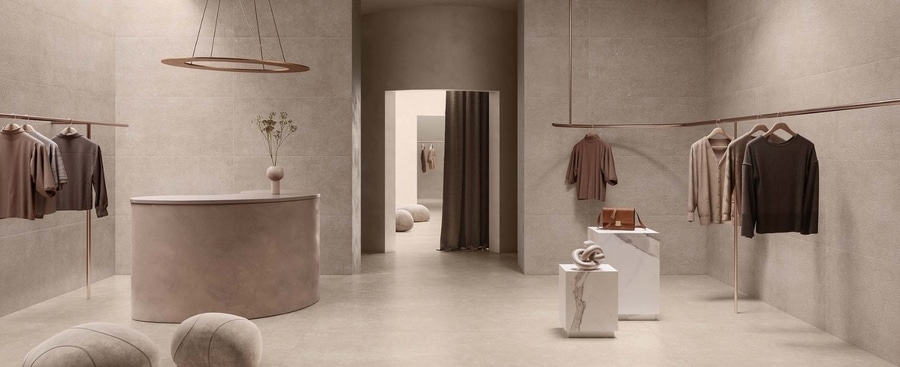 #

Trade Shows & Events
Casalgrande Padana will be at Boutique Design New York
On 12 and 13 November 2023, Casalgrande Padana will be at Boutique Design New York, in the Jacob K. Javits Convention Center, Halls 3A - 3E.
On 12 and 13 November, Casalgrande Padana will be at Boutique Design New York, in the Jacob K. Javits Convention Center, Halls 3A - 3E. The Italian Trade Agency has organised a collective participation together with Ceramics of Italy, in collaboration with the trade association Confindustria Ceramica.
Now in its 13th edition, Boutique Design New York is dedicated to the promotion of design products for hotels, restaurants and spas. This event is aimed at professionals in the hospitality sector, called upon to respond to new needs and changing demands, ranging from the use of sustainable, eco-friendly materials to energy efficiency.
Stile by Casalgrande Padana: the charm of stone-effect porcelain stoneware
The charm and beauty of natural stone have inspired Stile, Casalgrande Padana's new porcelain stoneware tile collection that stands out for its sophisticated aesthetics, rich colour palette and variety of sizes and finishes reminiscent of typical, original stone workmanship.
Stile comes in six colours (Beige, Black, French Grey, Pale, Pearl, and White Smoke), six formats (30x60, 60x60, 60x120, 120x120, 45x90, and 90x90 cm), and two thicknesses (9 and 20 mm).
This new collection is available with various finishes (antiqued, antiqued silk, diagonal, grip, natural, natural silk, and ribbed), perfect for creating uninterrupted surfaces between interiors and exteriors.
Stile stoneware tiles are perfectly rectified and squared, and the different sizes and finishes, reminiscent of typical stone workmanship, allow for an impressive variety of laying patterns and solutions for bespoke living spaces.
The compact, durable and wear-resistant stone-effect tiles in this new high-performance stoneware collection are the result of cutting-edge technology, making them suitable for any climate and any project, including public buildings and large shopping malls, as well as restoration work.
Casalgrande Padana Supreme: the natural shine of salt crystals
The result of careful research, Supreme by Casalgrande Padana draws its inspiration from typical rock salt crystallisation, replicating its colours, consistency, and shine. Nature's precious masterpieces created from sedimentary rocks from around the world are recreated in the porcelain stoneware tiles in the new Supreme collection. A fascinating journey to the centre of the earth to discover the colours and tactile features of rock crystal, an element used since ancient times for its many benefits.
Desaturated veining, harmonious crystal lattices, delicate transparencies and refined details come to life in an elegant palette. The colours range from the pale tones of the prestigious 'Fleur de Sal' from the Algarve, Portugal, to the greys of 'Sale Grigio di Bretagna'(Brittany grey salt) and the black of 'Kala Namak', a rock salt from South Asia.
Supreme comes in four colours (Dark, Grey, Sand and Taupe), with a thickness of 9 mm for the 30x60 cm size, available with a natural or Grip finish; the 60x60 cm and 60x120 cm sizes are available with a natural, polished and Grip finish, the 120x120 cm size in a natural and polished finish, and the large, 6mm-thick 120x278 cm size comes in a natural finish or a polished version that further enhances its appearance.
Casalgrande Padana offers a wide array of solutions to turn ceramic surfaces into an integrated, advanced system able to respond to the most demanding requests in terms of architectural quality, performance levels, durability and sustainability. Casalgrande Padana porcelain stoneware tiles are guaranteed and certified, making them one of the most advanced and versatile solutions offered by modern design engineering. Like all Casalgrande Padana tiles, the Supreme collection is made solely with natural raw materials. These tiles are environmentally sustainable, non-absorbent, fire-resistant, non-allergenic and antibacterial. They are even self-cleaning, thanks to the Bios Ceramics® technology (available upon request). They are easy to lay and clean, have excellent bending strength, and are resistant to temperature fluctuations and seawater.