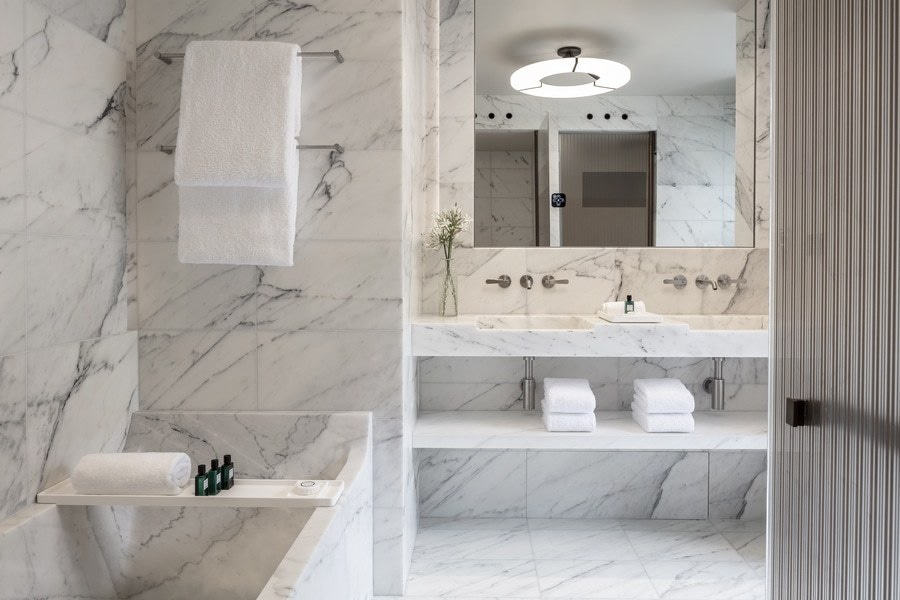 #

Inspiration
HOTEL LUTEZIA
Eulogy to French art-de-vivre
Epitome of French art-de-vivre, a cult destination on the Parisian and international cultural scene: after over a century of history, the Hotel Lutetia, opened in 1910 on Paris' Left Bank, has been completely renovated by the architect Jean-Michel Wilmotte, with the aim of enhancing every trace of the original building without altering its charm and historical value.
The Art Deco and Art Nouveau surroundings blend with elements of contemporary taste, where the attention to detail becomes paramount. The project is based on the desire to increase the size of the spaces, in order to offer guests greater comfort and wellbeing. This has allowed the creation of a patio and SPA area that benefit from natural light, thus emphasising further the chromatic and material contrasts of the architecture.
Customised solutions have been developed for each room, combining stylistic requirements with the historical constraints of the building. All the furnishings are perfectly integrated with the technical systems, for a tailor-made result. The oak panelling with blue and grey finish stands out, with the woodwork's striking three-dimensional weave effect.
The grey veins of Carrara marble used to create all the bathrooms are juxtaposed with the materiality of the stainless steel CEA has used for the fittings. With classical inspiration, LUTEZIA, as the tap designed by Jean-Michel Wilmotte and dedicated to the Hotel Lutetia is named, reinterprets the traditional hydraulic valve, conferring technology and innovation.